Deborah Wang, Guest Curator
2014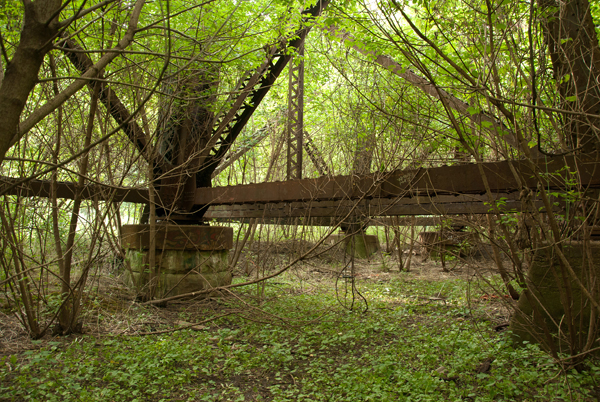 IMAGE: Jessica Craig, Don Valley #190 (2012), Digital print
Featuring works by Sheila Ayearst, Jessica Craig, Department of Unusual Certainties, Scott Eunson, Shlomi Greenspan, and Scott Norsworthy.
Exhibition Overview
The term 'urban fabric' often refers to qualities of the urban environment in terms of density; networks and exchanges both visible and invisible; the rhythm and patterns of streets, built form, and open spaces; and the movements of city dwellers. Urban fabric points to what is formal, tangible, hard or soft, but also to what is temporal and experiential – characteristics that cannot be seen. In this sense, fabric is almost always a stand-in for something else. A metaphor. A comparison with something unlike itself. Often, it points to matter and interactions. It conjures the 'stuff' that makes up the city, but also aspects of its character. That is, fabric speaks to what a city is like. As recording devices and a means of communication that move through and inhabit the city, textiles also participate in life (urban or otherwise) as themselves.
Additional Information
Through photographs, paintings, sculpture, film, and pattern-making, the artists in Urban Fabric explore what it means to live in, and know, a place. Each creates a portrait of a city, often taking Toronto as their subject. Both Scott Eunson and Jessica Craig examine the co-existence of the city grid and the natural landscape, acknowledging geographic oddities, holes within the urban fabric, and what has been built-up over time. Scott Norsworthy looks at the urban realm as a literal textile, seeking out and photographing the city's anomalies and holes. Sheila Ayearst dwells on the material, the tangible, and the everyday, with her laborious paintings of concrete surfaces, each very specific, yet ubiquitous. Filmmaker Shlomi Greenspan engages the pulse and pace of contemporary urban life, but introduces a glitch in its anticipated flow. Working with patterns that appear through mapping the city, the Department of Unusual Certainties reveals the physical infrastructure that makes it possible, while exploring new social relationships that emerge.
EXHIBITIONS:
Urban Fabric: Portraits of the City, Textile Museum of Canada, Toronto, 2014