William Elsworthy with Philip Beesley, Rob Gorbet, Hayley Issacs, Christian Joakim, Jonah Humphrey, Kirsten Robinson, Jon Cummings, Jonathan Tyrrell, Eric Bury, Lawrence Chan, Charisma Panchapakesan
2007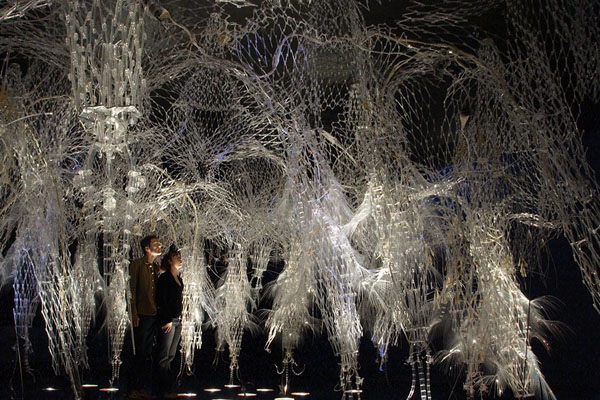 Photo credit: Philip Beesley Architect Inc.
Hylozoic Soil is an interactive geotextile mesh that senses human occupants and responds with air movement, produced by peristaltic waves of motion within distributed fields of lightweight pores. Custom-manufactured components use parametric design and digital fabrication. Machine intelligence is embedded with in newtorks of microcontrollers that coordinate arrays of proximity sensing and kinetic actuators. Arrays of capacitance-sensing whiskers and shape-memory alloy actuators are used to create a diffuse peristaltic pumping that pulls air and organic matter through the occupied space.
William Elsworthy consulted on the component design and prototyping of the mechanisms that activate the installation.
For more information see Hylozoic Soil
CREDITS:
Completed with Philip Beesley, Rob Gorbet, Hayley Issacs, Christian Joakim, Jonah Humphrey, Kirsten Robinson, Jon Cummings, Jonathan Tyrrell, Eric Bury, Lawrence Chan, Charisma Panchapakesan
EXHIBITIONS:
Musée des Beaux-Arts, Montréal, Quebec
Photo credit: Philip Beesley Architect Inc.